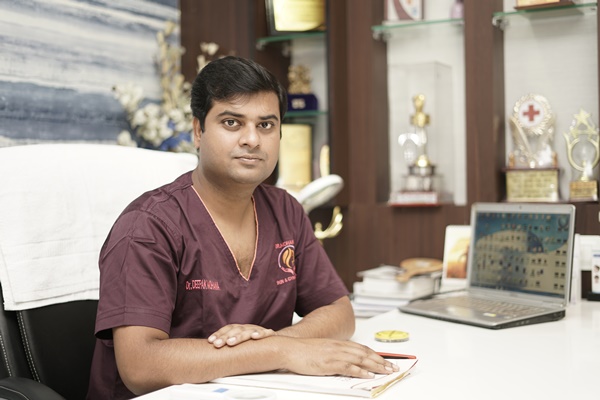 Dr. Deepak Mohana is the Founder, Director, and Chairman of Dr. Mohana's Skin, Hair, & Laser Center. With over a decade of experience, Dr. Mohana has earned a reputable name and trust through his advanced treatments for the most challenging dermatological conditions. He specializes in Hair Transplants as well as various kinds of Laser Skin Treatments and is considered an oracle in the treatment of Stable Vitiligo through Melanocyte Transplantation Surgery.
You are absolutely gorgeous, and we are here to make you feel that.
World-class Dermatology & Hair Transplant Clinic offering the most advanced solutions for all your Skin and Hair problems.
Do you find yourself constantly worrying about unwanted hair on your body? Do you feel like you have to regularly shave or wax to keep up with the hair growth? If so, you're not alone. Millions struggle with unwanted hair, and keeping up with hair growth can be a real challenge. But there is a solution. Dr Mohana's Permanent Hair Reduction by LASER can help eliminate unwanted hair.
Hair Transplant Treatment
With state-of-the-art facilities and the best infrastructure, we deliver excellent Hair Transplantation services to our patients. Hair is surgically removed from the scalp or any other area of the body and then transplanted into the areas of the body where hair loss has occurred. Our constant bid to achieve excellence in our practice makes us the most preferred center for hair transplantation.
There are different types of skin conditions with various kinds of problems. It can be both cosmetic and health, so choosing one among many can sometimes be confusing. However, we will focus on skin conditions/issues relating to every skin problem, i.e., acne scars, age spots and wrinkles. The most common solutions are laser treatment for rejuvenation, resurfacing skin growths, blemishes, and microdermabrasion.
We offer cutting-edge Laser treatments for both hair and skin. The treatments include Hair Removal, Skin Lightening, FX CO2 Laser for Acne Scars, Moles & Warts Removal and Q Switched ND YAG Laser for Birthmarks & Tattoo Removal. The advanced procedures performed by a highly expert team of dermatologists are quick, painless, and effective, leaving you with a fabulously beautiful look.
Client reviews and feedbacks
I have been suffering from Vitiligo for 7-8 years and have consulted many doctors, but nothing helped. When I approached Dr. Deepak Mohana, he advised me to undergo Phototherapy, and within 2-3 months, I started seeing a big difference. I am getting treated for last 7-8 months, the marks on my body and neck region, have reduced by 70-80% and in the next 3-4 months they should completely go away. Dr. Mohana is good-natured, and the staff here is very kind and supportive.
I was suffering from hair thinning and hair fall since a year. I tried everything thing from home remedies to medicinal oils but got no relief. Then i consulted Dr. Deepak Mohana, he did computerised hair analysis and prescribed some serum and tablets. In 2 months time not only my hair thinning reversed but I got hair growth too. Thank you Dr Mohana
I was suffering from Acne from last 1-2 years but after visiting Dr.Deepak Mohana's clinic I just came out with the treatment results within 1 month.
Doctor Mohana is very friendly and kind and he makes sure that his patients are comfortable all throughout the visit. I believe this is the best place I have ever been to for my wart removal problem. The staff is also very caring and friendly.
We are the most trusted Dermatology & Hair Transplant Center in Indore.
Physical appearance has a significant impact on our confidence and self-esteem in today's social media and trend-driven society. It affects how we perceive ourselves in daily life, at work, in social gatherings, and in our relationships. Skin problems and hair loss are detrimental to one's self-esteem and bring on considerable emotional distress. With our cutting-edge dermatology and hair treatments, we put an end to your struggle and help you dramatically boost your self-esteem, giving you more confidence and a brighter outlook on life.